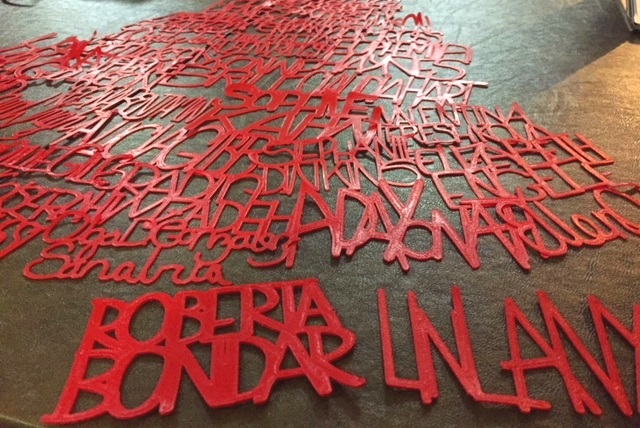 Sylvia Heisel, head of design lab Heisel and fashion tech pioneer, is the creator of The Names Dress, a wearable, compostable conceptual art piece engineered with over 300 handwritten, 3D printed names of women in STEAM (Science Technology Engineering Art and Math). The making of the dress was a collaboration among friends and colleagues: designed from 2D to 3D in Morphi 3D design software on iPad and 3D printed in parts on Ultimaker 3D printers using BioInspiration's WillowFlex flexible, compostable bio-plastic.
The idea for the dress came from ongoing conversations that Sylvia had with her friend and collaborator, Sophia Georgiou, founder and designer of Morphi on the interconnected themes of women's empowerment, sustainability, design and tech. Lizabeth Arum of Ultimaker also assisted in the collaboration, and together they compiled a broad group of women, both from publicly available sources and referrals, to be included in the project.
"While there are increasing numbers of women embarking on careers in STEAM (including inventors, mathematicians, scientists, artists using technology and others), the achievements of women in these fields are not always widely known or celebrated. The Names Dress is a tribute to women, known and unknown, historic and contemporary, in these interconnected and evolving fields. The Dress is also an exploration of the use of sustainable materials and techniques in creating innovative textiles and garments," says Heisel.
A pioneer in merging 3D printing technology with fashion design, Heisel is known for using additive manufacturing to develop sustainable fashion with zero waste. Her design process for the Dress was a fine balance between hand and machine. She initially sketched the dress with pen and paper, visualizing the architecture for how the names would come together to form fabric. To create the textile for the Dress, she wrote each name by hand directly into Morphi software on an iPad which were quickly transformed into 3D models for 3D printing on Ultimaker 3D printers using WillowFlex compostable bio-plastic filament. The names were then placed and connected to create a unique zero waste, continuous textile that could not have been made with traditional manufacturing.
The Names Dress is currently on exhibit for a year at the Sustainable Thinking Exhibition at the Museo Salvatore Ferragamo in Florence, Italy from April 12, 2019 through March 8, 2020.